With the date of the papal conclave set for Tuesday, 12th March the question now is who will be the next pope?
"It is important for Italy that we have an Italian Pope," Christian offered, before creating some of the best risotto dishes we've ever tasted; "or at least an European one."
While on the trail of the papabili (men who could be pope) in northern Italy we experienced something eerie; as if everyone had listened to some of Benedict XVI's last words as Pope, when he asked the faithful to pray for him and for the next pope.
I have never encountered Italy like this. It seemed as though 'sede vacante' (the period when the Chair of St Peter is empty) was having a profound effect on the people we met; everyone was so kind and helpful, going out of their way to show us the birthplaces of the four papabile cardinals I had selected.
First stop, Malgrate.
Beautifully situated on the scenic shore of Lake Como, with a clear view of Lecco, Malgrate is the birthplace of Cardinal Angelo Scola, the Archbishop of Milan.
Pilgrims will like coming here, if Scola is elected Pope. It's just a short walk up to the Chiesa San Leonardo, past the chapel dedicated to victims of the devasting plague in 1630. A look inside the chapel reveals a collection of human skulls and bone parts.
At the church itself, there was a photograph of Cardinal Scola with Pope Benedict XVI; a striking contrast of red and white, complemented with shared, warm smiles.
When I asked for directions to Cardinal Angelo's Scola's 'casa di natale', we were taken up the little alley beside the 'Cappella dei Morti di Peste' and told that at the time of his birth, there were only two buildings close by and the area in front of the house was a 'culinary garden'.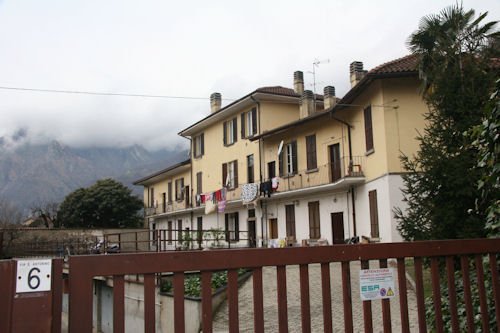 The BBC were in Malgrate the day before and as we returned to the car, an Italian journalist and photographer were interviewing a couple in the street.
Next Stop, Merate.
Just twenty kilometres down the road is Merate, where Cardinal Gianfranco Ravasi (President of the Pontificial Council for Culture) went to school. The BBC had also been here recently, to interview the mayor.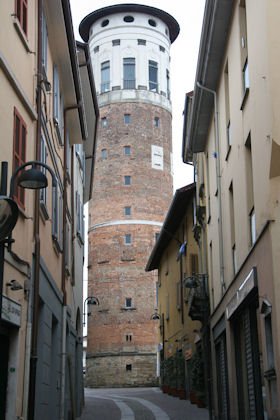 There are a number of luxurious villas (and an astronomical observatory) in Merate but the Palazzo Prinetti, with it's high cylindrical tower, is the outstanding landmark.
Although many sources have Merate down as Ravasi's place of birth, we were informed that the Ravasi family home is in Osnago; a little further south.
The lady who gave us directions to the Ravasi house, just happened to be a neighbour.
Third Stop, Pontevico.
We needed to get on the Bergamo-Brescia-Cremona motorway (Autostrada) to reach the birthplace of Cardinal Angelo Bagnasco (Archbishop of Genoa) before the light faded. At the motorway exit, the man in the toll booth even came out of his cabin to give us the change.
Rain clouds were approaching but Pontevico still had a pilgrimage type feel to it.
I didn't see any reference to Cardinal Bagnasco in the church but there was a poster promoting some writing of our previous candidate.
The old lady I approached outside the church told us that Angelo Bagnasco was born and baptised in the hospital at the end of the road. A friend of hers worked there so perhaps she could show us the small baptismal chapel.
Vercelli
Our fourth candidate, Cardinal Tarcisio Pietro Evasio Bertone (currently Cardinal Secretary of State), was once the Archbishop of Vercelli.
As Vercelli is famous for its rice, risotto on the menu is a must. And where better to sample the local produce than in a risotteria; a family establishment with a Michelin star and numerous awards for creativity with the grain.

Hotel Cinzia – Restaurant Christian & Manuel.
Although the restaurant didn't open until eight, we could have a drink in the hotel bar. "Habemus Papam" came a shout from the kitchen.
Christian would be in Rome the following weekend and if the conclave took its time in deliberating, he might even be there when the new pope was announced.
The local paper also gave a chance to the former Archbishop of Alessandria and family friend, Cardinal Giuseppe Versaldi. Versaldi was born in Villarboit, just 18km from Vercelli and was appointed Vicar General of Vercelli, by the then Archbishop Tarcisio Bertone, in 1994.
As Versaldi has only been cardinal for a year, we gave Villarboit a miss and headed over to Bertone's place of birth the following morning.
Romano Canavese.
The sun slowly burnt off the morning mist as we drove towards the 'Provincia di  Torino'. Romano Canavase took a while to grow on me. Maybe joining the locals in the Caffe da Piero helped.
Feeling refreshed again, it was just a short walk down to the Piazza; to the family home that Pope Benedict XVI also visited.
Will the next pope be an Italian? Will he be one of these northern papabili?
If Cardinal Scola does get elected to sit in the hot seat of St Peter, one of his first jobs as the 266th Pope will be to appoint a new Archbishop of Milan.
I was in a sleepy Bavarian village, called Marktl am Inn, the day Cardinal Joseph Ratzinger became Pope Benedict XVI.
That was on the rainy afternoon of April 19th, 2005; just three days after my birthday.
Listening to the news, while driving through Austria in the morning, I had a funny feeling that the man sharing my date of birth might just become the next Pope, after the death of Pope John Paul II.
The village's famous son had recently held the funeral Mass for Pope John Paul II, in Vatican City and was at that very moment sitting in Conclave; to help decide who would become the 265th Pope; 264th successor to Peter.
This was a story I had to cover, before Marktl am Inn became a sought out name on the world map.
We were in Marktl again just last April and so much had changed; apart from the rain.
A sign on the edge of the village now welcomed us to the 'Birthplace of Pope Benedikt XVI'.
In the village itself, the few sheets of tourist information once available in the lobby of a local Gasthaus had been replaced with a fully-fledged, Marktl Tourist Office; complete with a gallery of pictures gathered during the Pope's visit to his birthplace on 11th September, 2006.
There are photos of the Pope praying at his own baptismal font and the house of his birth has been turned into a very informative museum.
So the Holy Father will soon have a Holy Father; for the first time in history (excluding non canonically-elected claimant Popes, or antipopes). Catholic or not, seeing a Pope step aside is a very moving moment.
Pope Benedict XVI will be known as 'His Holiness Benedict XVI, Pope-Emeritus' in retirement and will continue to wear his white cassock; although without the red shoes. No doubt he too will be watching closely for signs of white smoke in March; while deep in prayer at Castel Gandolfo.
Who will the cardinals choose to remind them of Jesus and sit on the throne of Saint Peter, and where does that leave Marktl as a tourist destination?
Marktl will always be somewhere special in my heart but once a new Pope is elected, will pilgrims still be interested in the Benedict Trail (Benediktweg) and follow in the footsteps of a man who was Pope Benedict XVI, between the Rivers Inn and Salzach?
A few weeks ago I was in Zürich attending FESPO – the largest holiday and travel fair in Switzerland.
As I pull on another pair of socks and shiver at the sight of the icy crust of wintery snow still lingering outside, I curse myself for not entering the competition to win a trip to guest country Maldives.
I did pick up a free copy of the Hello Maldives publication; a 'compact, easy-to-carry, and user-friendly Handbook for Tourists, Tour Operators and everyone else'.
Sadly I never ventured across to The Maldives when I travelled around India and Sri Lanka. Perhaps I considered it a place for tourists and loving couples, or a little too far out in the Indian Ocean for overland travellers. Right now, I'd like to be a tourist.
With national tourism representatives, tour operators and travel agencies nicely organised by region it was easy to travel around the world without being overly confused. There were also sections devoted to cruising, caravaning, coach tours, wellness, diving and golfing holidays.
Even the Swiss Swiss Federal Department for Foreign Affairs (EDA) made an appearance at the show.
Some tourist organisations offered a little food and drink from their region while others played some local music or treated us to a dance show with full traditional costume. The Visit Maldives marketing team decided to make their stand look like a tropical beach.
Around 70,000 visitors made it to the Messe Zurich, in Oerlikon, over the four days.
With nearly 600 exhibitors in six large halls, spread out on three floors of exhibition space, the visitors surely collected plenty of holiday ideas to think about while drinking a cup of warm chocolate on another cold day like today.
A few thoughts I came away with revolved around train journeys and cycling.
Looking through my little folder I see Zugreisen weltweit bei TCTT; The GoldenPass Line (Zurich – Luzern – Interlaken – Montreux – Geneva); Rhätische Bahn (spectacular UNESCO track between Thusis and Tirano).
My cycling options came down to Cycling in Germany (Deutschland per Rad entdecken); the Elbe Radweg (from Cuxhaven on the North Sea to Prague, as a possible 1,000km alternative to the Danube Cycleway – from Donaueschingen to Budapest and on to the Black Sea).
I also liked the idea of bikeCyprus, presented to me by the charming Take iT Travel representative.
My other thoughts for Spring and early Summer leaned toward Malta; a tour of The Baltics; Discovering Ireland; and Touring Iceland by Campervan.
It even appears I could win a trip to Iceland, with Island Tours, if enough people like the photo I took of their campervan. Camper Iceland looked a little sad parked up inside Messe Zürich on its own, so I decided to present it in something of a FESPO montage. Fingers crossed.
The one complaint I do have is that some of the catalogues were too thick to carry around; TravelHouse and Diamir Erlebnisreisen probably weighing-in with the heaviest. To be fair, it is possible to cut down on paper and download one of their online catalogues.
My award for the best looking brochure would have to go to Fotoreisen.ch. If only going on one of their photo tours could guarantee capturing such beautiful images.
The Zurich event is one of four holiday and travel fairs grouped together under the Schweizer Ferienmeesen banner. If anyone in Switzerland missed the Ferienmesse Bern (Jan 10-13) or the Vacances Geneve (Jan 18-20), there's always the Basler Ferienmesse (Feb 22-24); that's tomorrow!
FESPO returns to Zurich from 30th January to 2nd February, 2014.